Sanford Institute of Philanthropy at Maricopa Community Colleges
The Sanford Institute of Philanthropy at Maricopa Community Colleges offers a range of high-quality educational opportunities to further strengthen nonprofit organizations throughout Arizona. Founded by entrepreneur and philanthropist, T. Denny Sanford, the Institute focuses on preparing exemplary nonprofit leaders and providing the support they need to be successful in making a difference in the world. The Institute offers more than 30 seminars, workshops, webinars, and a Fundraising Academy built around four key themes: cause selling, marketing, fundraising strategies and relationship building. All coursework is delivered by experienced nonprofit professionals, and many of these seminars and workshops meet the standards of excellence outlined by Certified Fund Raising Executive (CFRE).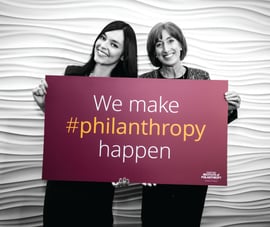 Sanford Mission
To help nonprofits significantly increase their fundraising capabilities and impact they have in their communities and society, through proven contemporary curriculum presented by world-class nonprofit leaders, best in class faculty, and renowned philanthropists.


Webinar 1: The Changing World of Philanthropy
Kathy Drucquer Duff, CFRE
Founder, KDD Philanthropy
Webinar Series
Cost: Free!
Webinar 2: Building Program Champions
Start the New Year with 2020 Vision
Vince Evans, Development Officer, Free Arts for Abused Children of Arizona

Adrian Jamieson, Director of Development, Big Brothers Big Sisters of Central Arizona

Judy Sanchez, Chief Development Officer & College Relations Officer, Maricopa Community Colleges Foundation

Todd Vigil, Director of Marketing and Communications, Heard Museum
When IT Hits the Fan: Everyone's Role in Crisis Communications
Jeff Stanger
Education Resources Manager, CFRE
Jan 15, 2020
Jan 29, 2020
Feb 12, 2020
Feb 26, 2020
Fundraising Academy Accelerate
Cost: $450/person
Fundraising Academy Accelerate

Keep up with the Sanford Institute of Philanthropy
Stay up-to-date with all of the latest events and news from the Sanford Institute of Philanthropy at Maricopa Community Colleges.