Sanford Institute of Philanthropy at Maricopa Community Colleges
The Sanford Institute of Philanthropy at Maricopa Community Colleges was established to offer a range of high-quality educational opportunities to further strengthen nonprofit organizations throughout Arizona. Founded by entrepreneur and philanthropist, T. Denny Sanford, the Institute focuses on preparing exemplary nonprofit leaders and providing the support they need to be successful in making a difference in the world. The Institute offers more than 30 seminars, workshops, webinars, and a Fundraising Academy built around four key themes: cause selling, marketing, fundraising strategies and relationship building. All coursework is delivered by experienced nonprofit professionals, and many of these seminars and workshops meet the standards of excellence outlined by Certified Fund Raising Executive (CFRE).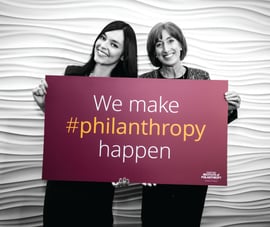 Sanford Mission
To help nonprofits significantly increase their fundraising capabilities and impact they have in their communities and society, through proven contemporary curriculum presented by world-class nonprofit leaders, best in class faculty, and renowned philanthropists.


The Missing Link In Your 2019 Digital Fundraising Strategy
Francisco Martinez,
Educator, Speaker, and Professional Marketing Consultant and Trainer
Set Yourself Up for Success with Peer-to-Peer Fundraising
Elizabeth Hilbert, Product Marketing Manager
Diversity, Equity, and Inclusion Series: Prospecting for Diverse Major Donors
Armando Zumaya, Vice President, Development at Goodwill Industry and Trainer

Keep up with the Sanford Institute of Philanthropy
Stay up-to-date with all of the latest events and news from the Sanford Institute of Philanthropy at Maricopa Community Colleges.