Sanford Institute of Philanthropy at Maricopa Community Colleges
The Sanford Institute of Philanthropy at Maricopa Community Colleges was established to offer a range of high-quality educational opportunities to further strengthen nonprofit organizations throughout Arizona. Founded by entrepreneur and philanthropist, T. Denny Sanford, the Institute focuses on preparing exemplary nonprofit leaders and providing the support they need to be successful in making a difference in the world. The Institute offers more than 30 seminars, workshops, webinars, and a Fundraising Academy built around four key themes: cause selling, marketing, fundraising strategies and relationship building. All coursework is delivered by experienced nonprofit professionals, and many of these seminars and workshops meet the standards of excellence outlined by Certified Fund Raising Executive (CFRE).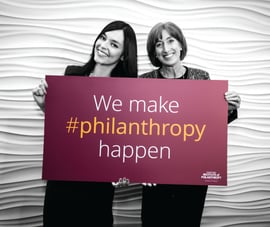 Sanford Mission
To help nonprofits significantly increase their fundraising capabilities and impact they have in their communities and society, through proven contemporary curriculum presented by world-class nonprofit leaders, best in class faculty, and renowned philanthropists.


A Fulfilling Career in Philanthropy
Jessica Green, Director of Philanthropy, Shenandoah National Park Trust & Founder: MinimalistFundraising.com
Telling a Good Story: Changing Hearts, Minds and Action
How Many Donors Will You Lose? Fundraising Strategies for Adjusting to the New Tax Law
Keynote: Steve Seleznow, Arizona Community Foundation
Panelists (more to come):
Laurie Liles, Arizona Grantmakers

Judi Smith, Arizona Community Foundation
Moderator: Patrick McWhortor, Lead for Change
Closing Speaker: Kristen Merrifield, Alliance of Arizona Nonprofits
October 22-24, 2018
December 4-5, 2018
February 5-6, 2019
March 19-20, 2019
Fundraising Academy
Cost: $750
Basics of Fundraising
Cause Selling/Social Skills
Major Gifts
Planned Giving + Graduation

Keep up with the Sanford Institute of Philanthropy
Stay up-to-date with all of the latest events and news from the Sanford Institute of Philanthropy at Maricopa Community Colleges.