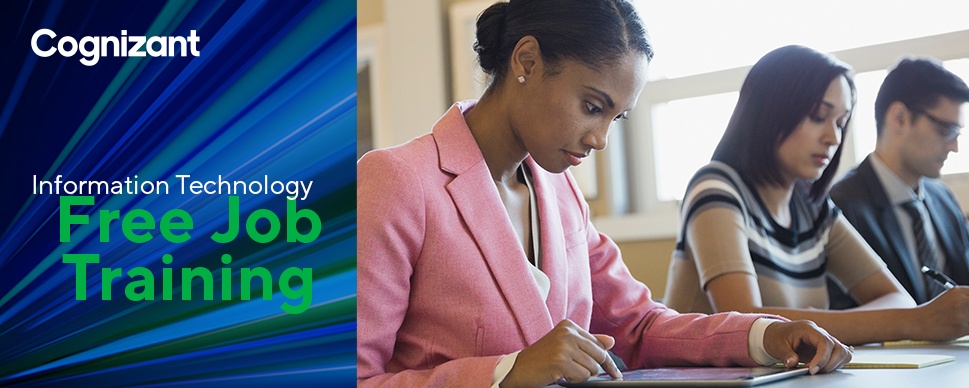 Frequently Asked Questions (FAQs)
Software Support Training
What does this program cover?
Weeks 1 and 2

Computational Thinking Exercises (Decompose, Patterns, Abstraction, Algorithm)

Business Competencies

Project Methodologies (Agile-Scrum)

Project Tools (JIRA)

Control Version (GitHub)

Requirements Gathering

Software Development Processes (TDD, BDD, ATDD)
Weeks 3 and 4
Databases (Oracle)

JavaScript & Bash
Weeks 5 and 6

Java Core, JSP, Servlets

JDBC

Spring MVC Framework
Weeks 7 and 8
Weeks 9 and 10
ITIL (CMDB, SLA, Ticketing, Reports)

ITIL (Catalog, Knowledge Base)

Management, Incident & Problem Management
Weeks 11 and 12

Configuration and Release Management

Risk Management

Service NOW
When is the training offered?
Our next program will begin in 2019. The initial 12-week, Software Support training program started on August 20, 2018 and will continue through November 9, 2018; Monday – Friday; 9:00 am – 5:00 pm.
How much does the program cost?
This program is completely FREE!
How can you offer free training?
The Software Support job training is offered in partnership with Cognizant, a local employer who is looking to hire employees with these skills! Funding is also provided through the City of Phoenix - ARIZONA@WORK.
Who is Cognizant?
Cognizant (NASDAQ-100: CTSH) is one of the world's leading professional services companies, transforming clients' business, operating and technology models for the digital era. Their unique industry-based, consultative approach helps clients envision, build and run more innovative and efficient businesses. Headquartered in the U.S., Cognizant is ranked 205 on the Fortune 500 and is consistently listed among the most admired companies in the world. Learn how Cognizant helps clients lead with digital at www.cognizant.com or follow @Cognizant.
Who is Maricopa Corporate College?
As part of the Maricopa Community Colleges, Maricopa Corporate College (MCOR) delivers high-impact training and development solutions for the business community, government, and non-profits. Organizations partner with MCOR for training workshops, corporate/industry boot camps, and organization-wide employee development, or to streamline tuition reimbursement programs and access to clock-hour and credit-bearing employee learning options provided by the 10 Maricopa Community Colleges.
Do participants receive college credit for the program?
No, this is an accelerated non-credit program.
What is the class size?
The maximum class size is 30.
Do I need to bring any materials to the class?
No, just your positive hardworking attitude.
Can I bring my own laptop?
Yes, you can use your own laptop for the class, but it is not required. We will provide a laptop for use during class time.If you are bringing your own laptop, please see the following requirements.
System Requirements: Good CPU (64bits OS), 16GB RAM, 250GB Hard Drive.
Software Requirements:
Windows 7 or 10

Eclipse IDE

Sublime, Atom (Text Editors)

Oracle 11g

Java SE

Service Now (ITSM)

Jira

SmartDraw for UML Diagrams

MS Office Suite (Word and Excel are needed)

Chrome
Will I incur additional expenses for this program?
No, there are no required expenses. You may choose to purchase your own laptop or other IT-related equipment, but these items are available for your use during class time.
Do I need to be in class to participate in the program?
As this program is very hands-on and involves team projects, we require all participants to attend all classes in-person.
Where are the classes held?
This class will be held at the Rio Salado College Northern location at 1715 W Northern Ave, Phoenix, AZ 85021.
How much assistance will I receive in finding a job?
The training program will cover interview skills, resume reviews, selling yourself strategies, and include role play scenarios to assist you with getting hired. Participants who successfully complete the program will have an opportunity to meet with the employer, Cognizant, who is sponsoring the training and interview for both local and out-of-state jobs. Cognizant recruiters will also speak to the class to provide industry advice and to provide information on hiring guidelines and interview questions. We will also provide additional resources and job leads to help you continue forward on your career path.
What type of positions will I qualify for after completing this job training?
This program prepares you for an entry-level Application Support Analyst position.
What is a typical salary range for a Application Support Analyst?
The salary range for this position at Cognizant is $42,000 - $45,000 per year, depending on experience.
You may also research salaries at the following sites:
How does the application process work?
Our application process has the following steps:
Submit an online application

Complete a pre-assessment test

Complete a phone interview

Verify eligibility for WIOA grant funds (Don't worry, even if you're not eligible, you can still take the program for free!)

Confirm enrollment
How can I be prepared before starting the program?
Before starting the program, it's a good idea to become familiar with some of the free resources and courses available online such as Microsoft Virtual Academy and Udemy.com. We also encourage you to attend local IT tech fairs and meetups.
Courses provided by Udemy.com:
What is the attendance policy?
Due to the accelerated schedule, class attendance is mandatory. There is a zero tolerance attendance policy. Participants will be dropped from the program 24 hours after a no call, no show and will not be eligible to restart the program.
When should I apply?
We require that all applications to be completed 5 business days prior to the program start date; however, we encourage you to apply as soon as possible, as seats fill quickly!
What is the instructor's background?
Our instructors have extensive knowledge in programming and computer technologies. Their teaching experience and industry knowledge exposes our training participants to a variety of skills required to be successful in IT.
Ready to join our next Software Support Training Program?
For additional information, please contact Dennis McLaughlin at bootcamps@maricopacorporate.com.