The Fundraising Academy Cause Selling Education at
Maricopa Community Colleges
The Fundraising Academy Cause Selling Education at Maricopa Community Colleges offers a range of high-quality educational opportunities to further strengthen nonprofit organizations throughout Arizona. Fundraising Academy prepares nonprofits and their fundraisers for greater, measurable impact by providing learning opportunities designed to enhance their cause, their communities, and the world. Through peer-to-peer instruction, our participants develop time-tested, relationship building skills they can apply to their operations now and in the future. Participants complete their education feeling empowered to cultivate and retain donors, conduct successful campaigns, and be more effective in their roles. All coursework is delivered by experienced nonprofit professionals, and many of these seminars and workshops meet the standards of excellence outlined by Certified Fund Raising Executive (CFRE).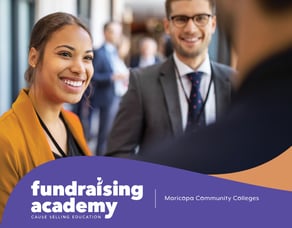 Our Mission
To help nonprofits significantly increase their fundraising capabilities and impact they have in their communities and society, through proven contemporary curriculum presented by world-class nonprofit leaders, best in class faculty, and renowned philanthropists.


Adriana Loson-Ceballos, Trainer, Fundraising Academy

Keep up with the Fundraising Academy Cause Selling Education
Stay up-to-date with all of the latest events and news from the Fundraising Academy at Maricopa Community Colleges.