Explore a Career in Sustainable Food Systems.
With online courses and access to our learning lab, this hybrid program in Sustainable Food Systems will help you develop your career within the industry through an immersive, educational experience. Learn more about the movement for healthy and sustainable food production with a curriculum that emphasizes cooking approaches and creating sustainable food practices for any of your unique pursuits.
Sustainability

Sustainable practices benefit the world today, as well as future generations to come. We'll give you all the resources and education you need for sustainable food production and preparation, so you can make your mark on the world.
Passion

You've got a passion for sustainability, so let us help you evolve that passion into success. You'll become well-versed in sustainability practices and leave with the ability to put your enthusiasm to work.
Experience

Gain real experience with industry experts in an established learning environment. With our hybrid program, you'll work hands-on with food, urban agriculture, small-scale farming, and cooking in a setting that accommodates your lifestyle. In fact, many labs take place right in our onsite cafe and gardens. Check out this article to learn more about our sustainability practices and success stories at the Cafe @ Rio.
---
Important Information about the educational debt, earnings and completion rates of students who attended this program can be
found at www.riosalado.edu/ge.
Let's get Cooking!
Reach out to get started.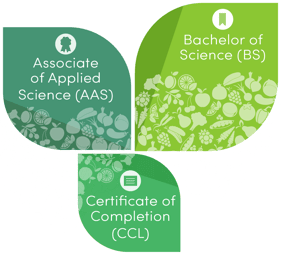 We offer multiple program options to students, including a Certificate of Completion, an Associate of Applied Science, and a transfer pathways program for those seeking their Bachelor of Science degree. We have everything you need to get the most out of your academic career and want to be with you every step of the way!